Packaging your shipment properly
Pack the parcel
Outer packaging: choose your packaging according to the shape, weight, volume and nature of the objects to be shipped. Make sure that the cardboard is of good quality and durable (particularly in humid conditions). We advise that you use corrugated cardboard with at least two layers for heavier parcels. The quality of the packaging is your responsibility.
Inner packaging: wrap each object separately and make sure they are correctly secured in place. Don't hesitate to use bubblewrap or padded wrapping. Avoid leaving gaps at the bottom and top of the parcel. For objects with protruding edges, cover the edges with corrugated cardboard, foam or bubblewrap to avoid damage.
Closing: Use resistant adhesive tape to seal your parcel. We strongly advise against the use of string to close your package: it can cause processing difficulties. For bulkier or heavier parcels, the closing areas must be reinforced. We advise that you also reinforce parcels containing paper or brochures, which often fall out of boxes when sliding around in the parcel.
Also please consider using our Prêt-à-Expédier packaging, available from our e-shop, in post offices and Chronopost depots.
Check that your parcel complies with standards
Maximum weight: no single parcel should weigh more than 30 kg.
Minimum dimensions for a letter: 23 cm x 16 cm
Maximum dimensions for a parcel: L = 150 cm ; L + Hx2 + Wx2 = 300 cm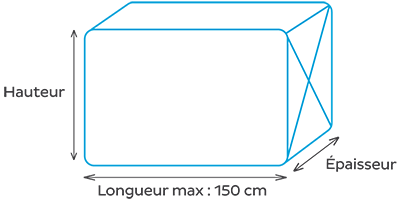 Label the parcel
Only the transport label and customs documentation (for your international shipments) should be feature on the packaging. The transport label should be inserted into the document pouch, available from post offices. If you prepare your parcel at home and choose to create your transport label online, you must print the label and cut it in two. You must keep the left-hand side entitled "Aide Mémoire" (For Information), and attach the right-hand "Echronopass" section to your parcel.