Chronopost's entire expertise serving e-commerce and distribution!
As a partner of e-commerce firms for many years, Chronopost adapts to the constant changes in e-commerce. Taking into account the trends and behaviour of e-shoppers, and the restrictions of your business, Chronopost's solutions are ever more flexible, customized and innovative.
Solutions tailored to your e-shoppers' schedules
Chronopost provides you with its complete expertise in transport and delivery right up to the last mile. Our offers dedicated to professionals are designed so that high performance and efficiency are provided on a daily basis
Flexibility and customization with the Predict service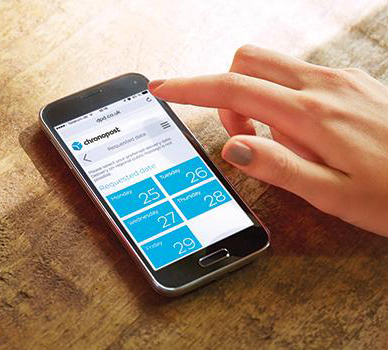 With the Predict service, your customers can reschedule shipment so that their item is delivered at another date within up to six working days, or to another place, from the day before and up to one hour before the deliverer passes by. Flexibility, comfort and time control are at the heart of this Chronopost service. With Predict, customize delivery and improve customer satisfaction.
A guide to optimize your purchase pathway
As a partner, Chronopost supports all e-commerce firms. The ordering pathway is at the heart of your e-buyers' online purchasing experience. In our guide, find the best practices to optimize it and find out why delivery is a vital link in prompting purchases and satisfying your customers.
Download our e-commerce guide
E-commerce platforms
We offer official modules on several e-commerce platforms to make it easier for you to provide express transport on your website. E-shoppers can therefore choose which of our delivery conditions they would like, directly on your website.
The e-commerce modules are simple, flexible and accessible to all.
With them, you can :
- Choose the delivery method (home delivery, Pickup point delivery, delivery by appointment, in France or abroad, etc.)
- Geolocate Pickup points
- Produce transport labels
- Track a shipment at all its stages
- Offer the Predict service (telling your consignees the day before about the driver passing by and having the chance to interact with the shipment)